Launched in 2012, The Connecticut Roundtable on Climate and Jobs (CRCJ) seeks to build a worker-oriented environmental movement committed to securing a fair and just transition that protects not only the environment but also the livelihoods of workers and their communities.
Originally convened as a unique collaboration between the CT AFL-CIO and the Interreligious Eco-Justice Network, CRCJ was designed to educate and strengthen collaborations between labor, religious, environmental, and community leaders concerned about the challenge of mitigating climate change while creating good-paying jobs as part of a sustainable economy. 
Our coalition-building and advocacy work leverages the political power of the labor movement and a diverse coalition to advocate for a safe climate in a way that addresses current and historical inequalities. Our purpose is to create a society that protects not only the environment but also the livelihoods of workers and their communities. We embrace our diversity as a source of power, recognizing that our shared interests in a sustainable climate and a just economy are stronger than any specific issues that may tend to divide us.
As the reality of climate change and its devastating impacts become more apparent, momentum will continue to grow for a fundamental shift away from fossil fuels. Moreover, research shows that environmental degradation, including the impacts of the climate crisis, are perpetuated in communities where there are high rates of poverty. As we fight the climate crisis, we must concomitantly fight for family-sustaining wages for the residents of those communities. Renewable energy is the sector experiencing the largest employment growth; it makes sense to focus our efforts on ensuring Connecticut low-income residents receive the training and support they need to acquire these jobs. Only when we can decrease unemployment in low-income communities and increase the average income for these communities, will we have a chance of creating and sustaining a high, healthy quality of life for all. 
CRCJ is adept at bringing leaders from the labor, environmental, social justice, and religious sectors together and creates a strong coalition of potentially unlikely allies fighting for climate-friendly solutions and a just transition to renewable energy. This coalition was critical in securing Connecticut's initial commitment to construct 2,000 MW of offshore wind, helping increase solar energy incentives in the state, securing a lockbox for state transportation funding, and passing SB 999, a bill establishing wage and workforce development standards for utility-scale renewable energy projects. We also hold regular webinars on intersectional topics to educate the general public about climate change and how it relates to other issues that people care about. We define and quantify our success in different ways for different areas of our work, but our success is measurable and our impact is statewide.
In 2021, we began working with a race equity consulting firm on a Justice, Equity, Diversity & Inclusion (JEDI) initiative. Our goal is to prioritize race equity in our internal and external programs and processes. It is our belief that for us to serve communities equitably and inclusively, we must apply the same standards to our internal culture. Our JEDI work also helps us examine our own inherent biases and prejudices so that we bring greater cultural sensitivity to our work with communities that we don't belong to or live in.
No organization does similar work to CRCJ in Connecticut. But, there is significantly more work to do. Join us in advancing our work and making climate justice a national priority.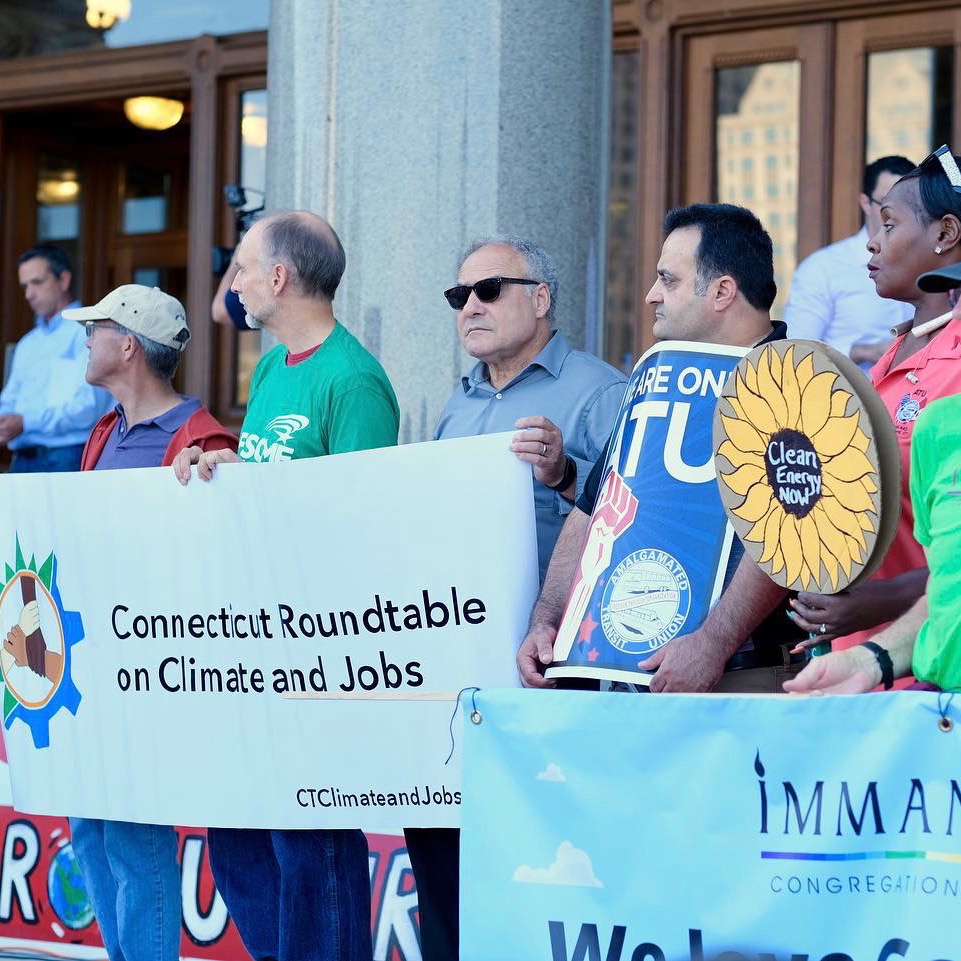 Frequently Asked Questions
Is the CRCJ a nonprofit organization?
The Connecticut Roundtable on Climate and Jobs (CRCJ) is a 501(c)3 nonprofit organization that builds alliances among diverse constituencies to combat climate change, create jobs and promote racial, economic and environmental justice.
We believe the climate crisis presents an opportunity to build thriving local economies that are not only more sustainable but also more just and equitable.
The Connecticut Roundtable on Climate and Jobs (CRCJ) is building an environmental movement that protects not only the environment but also the livelihoods of workers and their communities. Our unique coalition brings together labor, environmental, social justice, and interreligious organizations to combat climate change, create jobs, and promote racial, economic, and environmental justice. 
Who does the CRCJ represent?
CRCJ is a statewide organization that represents the entire state of Connecticut.
There are many ways you can be involved in the work of CRCJ. You can…
Make a one-time or recurring donation at any time, not just during our publicized donor events.
Become a CRCJ Individual or Affiliate Member. Along with CRCJ membership comes a host of benefits including access to our exclusively curated newsletter and community forum, invitation to a variety of gatherings specifically for CRCJ members, and regular communication with CRCJ staff to keep you abreast of our projects as they progress.
Attend one of our webinars or other meetings.
Join a CRCJ letter writing campaign.
Follow CRCJ on Facebook, Twitter and Instagram.
Contact a CRCJ staff member.